Item No. CSCCUS
Price: $449.99
Item status: Temporarily Out of Stock
You may order this item; will ship when available.
Not Qualified for Free Shipping
Not qualified for free shipping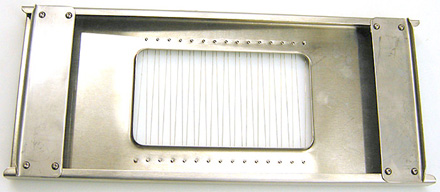 Shown here above from the bottom. Hole in center measures 9" x 4-3/4" (with stainless steel wire stretched over a width of 6-1/2"). Brushed stainless steel frame measures 21" x 8-3/4" x 1-1/4" high.
Close-up look at wire section here below