Not qualified for free shipping
Why Cast Iron?

Retains and redistributes heat for long periods of time
Perfect for slow-cooking meals
Perfect for beginners and professional cooks
Why Staub Enameled Cast Iron?
Because of its outstanding performance Staub is used and praised by the most celebrated chefs around the world.
Self-basting spikes underneath the lid ensure continuous, natural basting
The more you use your Staub product, the better it gets! Oils used when cooking will penetrate the pores of the matte enamel and create a natural, smooth, nonstick surface
Special, smooth ceramic bottom is usable on all heat sources
Lids feature stylish solid brass and stainless steel knobs
Staub enameled cast iron products are highly durable, do not discolor or rust, resist chipping, do not require seasoning, and are ready to use immediately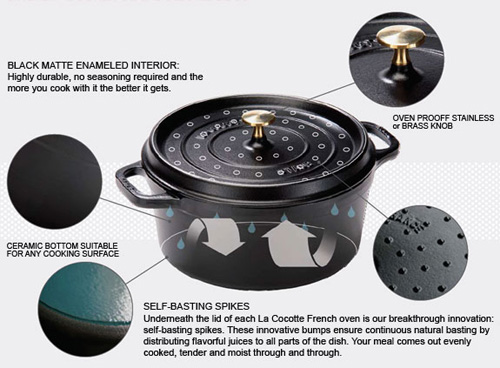 The Staub journey begins in Alsace, France. Rich in history, food, and craft, it is a region renowned for hearty one-pot recipes. Staub has been producing the best cast iron products for professional and aspiring cooks since 1974. Staub's French oven is a timeless standby for stews, roasts, soups, casseroles and other one-pot classics. Staub has perfected this tradition in its signature "La Cocotte" French Oven, the choice of some of the world's best chefs. La Cocotte moves beautifully from the stove to your table.