Items - $0.00
|
Checkout
|
Help & Info
|
Log In
|
800-525-5556
free ground shipping on qualified orders over $49.99
Forschner / Victorinox Paring Knife, 3 1/4 in Straight Small Black Nylon Handle Model 40600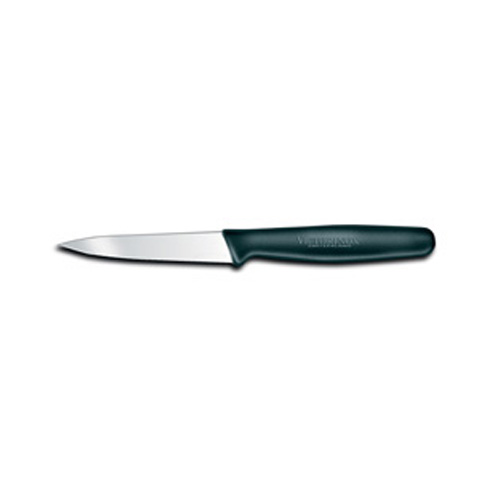 Enlarge Image
Item No. 40600
MFR# 40600
Price: $6.00
Item status: In Stock
Availability: Ships in 1-2 business days
Free Shipping if total is more $49.99
Catalog Page: 38
Blade is hand made of high carbon stainless steel
Special tempering process produces an edge that can be resharpened over and over again
Handle is made of plastic
Dishwasher safe
Average Customer Rating
5 stars - (1 reviews)





My go-to knife
Ideal for small prep - easily resharpened, wet-friendly handle, mine has been through a sanitize cycle in the dishwasher countless times and never complained. The different colors of handles help avoid cross-contamination in a production environment, though in my smaller kitchen I use black handles for the straight edges, and white handles for wavy/serrated. Makes it easier to just grab and cut.
By
ringo, California
on July 14, 2012
Average Customer Rating
5 stars - (1 reviews)
Copyright © Kerekes Bakery & Restaurant Equipment Inc..