Items - $0.00
|
Checkout
|
Help & Info
|
Log In
|
800-525-5556
free ground shipping on qualified orders over $49.99
Oxo 11111102 Good Grips Set of Measuring Cups with Scraper, White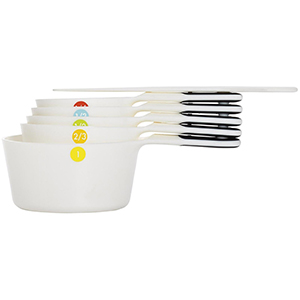 Enlarge Image
Item No. 76182
MFR# 11111102
Price: $8.99
Item status: In Stock
Availability: Ships in 1-2 business days
Free Shipping if total is more $49.99
These measuring cups from OXO are an essential for every kitchen. The Measuring Cups feature brightly colored numbers so measurement markings are easily recognizable. The Cup handles have soft grips for added comfort. Constructed of sturdy plastic, the Cups make dipping into flour and sugar a breeze.
Colorful, easy-to-read measurements
Cup Set includes 1 cup, 2/3 cup, 1/2 cup, 1/3 cup, 1/4 cup
Soft, comfortable grips
Dishwasher safe
Copyright © Kerekes Bakery & Restaurant Equipment Inc..