A word to the wise: keep this mat under lock and key. Gone are the days of fumbling with round metal cutters to make hollow rings. The mats are fast, versatile and clean. The best part about working with hollow rings is that your showpiece will look open and airy. This is a plus because chocolate display work can look heavy and dense due to its dark color. With this mat, you will be able to knock out modern, light and playful pieces.
Rings are ½" thick, with diameters 5," 3½," 2½ and" 1½"
12.5 cm, 9 cm, 6.5 cm, 4 cm x 12 mm thick.
Made of food-contact-safe silicone. Wash before use. Do not heat above 450° F / 232° C.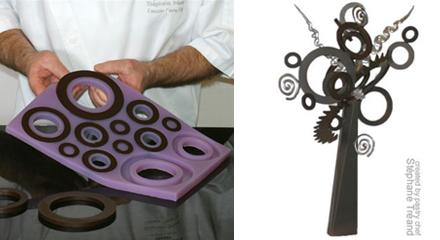 Not qualified for free shipping