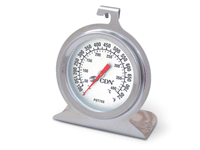 The most important kitchen essential to a chef is a good thermometer! Using the correct food thermometer for specific tasks improves the consistency of food preparation and food safety. The right choice of thermometers will alert you to problems of restaurant equipment like freezers, refrigerators, dishwashers and prep tables.
A famous chef was asked "What is single most important advice you can give a chef?" His answer, without hesitation, was "A Good Thermometer"
From candy thermometers and deep frying thermometers, to refrigerator, oven and grill thermometers, we have the right thermometer for your needs!
Freezer and refrigerator thermometers are important to ensure food safety. They are also great for refrigerated prep tables, ice cream dipping cabinets, food merchandisers, and display cases.
All kitchen personnel should have an instant read thermometer - or pocket thermometer used to monitor food temperature. A person handling food must have an instant read pocket thermometer. The probe meat thermometer is a great thermometer when monitoring meat temperature. The oven and grill thermometer is essential to ensure that baked goods don't burn or stay raw or under baked.