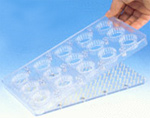 Create beautiful, signature chocolates and pralines with this unique chocolate mold. These professional-quality, 2 piece magnetic molds are constructed of food safe, clear, rigid polycarbonate with detailed sharp corners that produce professional chocolates. The 2 pc. mold is held together tightly by magnets.
To use, all you need to do is separate the mold and line the bottom of the magnetic mold with a
chocolate transfer sheet
. Put together the mold, and fill the cavities with chocolate.
The Bonbon molds below also feature a two-piece system, but there the two pieces are identical, and with the help of the magnets combine to form perfectly round balls of chocolate, Bonbons!