Decorating Tips & Accessories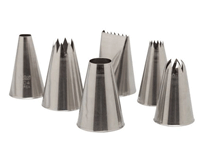 Creativity is the name of the game with cake decorating, and these decorating tips and accessories give you all of the cake decorating tools you need to be great at what you do. Browse simple petal tips or ornate stars as you build your collection of elegant accessories. We offer flower nails, tip covers, pastry decorating bag support stands, pastry bag couplers, and even more to ensure that you have everything you need to make your next masterpiece. You can even pick up a cake decorating practice board for both beginners and seasoned professionals looking to hone their skills. No matter what you're looking for, we have it all at affordable wholesale prices.
If your cake decorating toolset is incomplete, you're in the right place. Our selection of cake and pastry decorating tools includes a wide variety of items that are a necessity for serious bakers. These cake decorating accessories include icing tips, pastry bags and couplers, flower nails, cake decorating practice boards and so much more. Our products are commercial grade and made to outlast even the toughest kitchens. Whether your craft is cupcakes, pastries, cakes, or more savory recipes, we have something for you. You can shop top brands like Ateco, Wilton, Fat Daddio's, and more to find the right style at just the right price. We also offer sets to allow you to fully stock your cake decorating supplies drawer with just the click of a button. So what are you waiting for? Look around and pick out something you need from our extensive collection of heavy duty cake decorating tools.
Shop Our other Trusted Brands Wilton,  Ateco, Fat Daddio's, Matfer & Martellato
Tips and accessories for decorating cakes and pastries with pastry bags. We carry pastry tubes from Wilton, Ateco and more. Individual tubes and pastry tip sets in stock.