Fondant, Gum Paste and Edible Supplies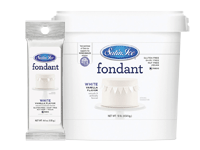 Bakedeco.com is your online portal for the finest selection of fondant, gum paste, and edible supplies. From modeling ingredients, icing and gels, sugars and isomalts, to pastry fillings to fondants, we've got you covered.
Turn a simple cake into a sweet treat worthy of a celebration. At Bakedeco.com, we offer top-quality fondant, gumpaste, and edible supplies. We have a wide selection to choose from if you need pastry fillings for your cakes, pies, or tortes. We also have a range of modeling ingredients, edible fabrics, sugars, and more for your baking needs!