Who is Kerekes?
Kerekes is a distributor of quality tools, supplies and equipment for every foodservice establishment.
Who Shops At Kerekes?
Kerekes services every type of Foodservice Establishment. Institutions, Schools, Hotel, Restaurants, Bakeries, & Cooking Schools are some of our customers. Pastry Chefs, Executive Chefs and Gourmet Home Cooks also use Kerekes as a source for all their needs.
Does Kerekes Sell Equipment & Machines also?
Yes, we sell everything from a spoon to an oven. We sell Mixers, Refrigeration, Ovens, Sinks, Tables,Tabletop Machines and Racks, to name a few. We can furnish your entire commercial kitchen.
Does Kerekes buy and sell Used Equipment?
Yes, we do. Kerekes has the largest selection of refurbished Bakery & Restaurant Equipment in New York. Everything is stocked at our 10,000 sq.ft. Used Equipment Warehouse. We also buy used equipment.
Does Kerekes have a Retail Showroom?
Yes, we do. Our 10,000 sq. ft. fully stocked Retail Showroom is located at 6103 15th Avenue . Brooklyn, NY 11219 . Please click here for directions.
(Note: Our showroom will be closed on Sundays during July & August)
What are your showroom hours?
Sunday 11:00 AM - 4:00 PM (During July & Aug - Closed)
Monday 9:00 AM - 6:00 PM
Tuesday 9:00 AM 6:00 PM
Wednesday 9:00 AM - 6:00 PM
Thursday 9:00 AM - 6:00 PM
Friday 9:00 AM - 1:00 PM

Click Here for Our Yearly Holiday Closing Schedule
Ordering Information:
What are the shipping costs?
Actual shipping and handling charges are calculated according to the weight of the item(s) in the order. Please see the shipping section below for more information on our shipping policies and options.
Do you charge Sales Tax?
Sales Tax is charged on orders shipped to addresses in NY State.
How fast will I receive my order?
Orders placed before 3pm and Friday by 11am will ship that day except if its noted in the item.
What method of payment do you accept?
We accept PayPal and all major Credit Cards: Master Card, Visa, American Express & Discover.
Can I order by Telephone or Fax?
Yes, you can. To place an order by phone, please call our Toll Free number: 718-232-7044 . You can fax your order to 718-232-4416 .
Processing/Shipping Times:
We currently ship orders during regular business days (Monday-Friday), weekend shipments are currently not available. We make every effort to ship orders within 24 hours of order placement if your order is placed before 3pm EST. Orders received after 3pm (EST) will ship the next business day. Our Cut-off Time for Fridays are 11AM EST.
Free shipping offer: Bakedeco offers free shipping on orders over $49.99 on most items only to the US 48 Continental States. However, certain heavy and bulky items such as, heavy equipment, shelving, etc, are NOT included in this offer. There will be a note in the item description wherever the free shipping offer is not in effect.
Shipping costs vary depending on the chosen item(s) and shipping destination. You can estimate your shipping charges on the shopping cart page.
We offer the following ways to ship your order:
Next Day Air: features fast, reliable delivery to every address in all 50 states UPS guarantees delivery by 10:30 a.m., noon, or end of day the next business day depending on destination.
Next Day Air Saver: offers an affordable delivery option for those important shipments that require next-business-day delivery, but don't have to be there in the morning. UPS guarantees delivery by 3:00 p.m. or 4:30 p.m. to commercial destinations where UPS Next Day Air delivery is committed by 10:30 a.m. or noon, respectively. Shipments to residential locations within the Next Day Air Saver area are delivered by end of day.
2 Day Air: provides guaranteed on-time delivery to every address throughout the United States (excluding intra-Alaska shipments) by the end of the second business day. This service is an economical alternative for time-sensitive shipments that do not require overnight or morning service. UPS 2nd Day Air service provides substantial savings compared to the rates for overnight air service.
3 Day Select: The ideal mix of economy and guaranteed on-time delivery, UPS 3 Day Select guarantees delivery within three business days to and from every address in the 48 contiguous states.
Standard Ground shipment : Standard Service - This is our best value shipping service. You will receive your product within 1 to 6 business days depending on location. Please consult the map below.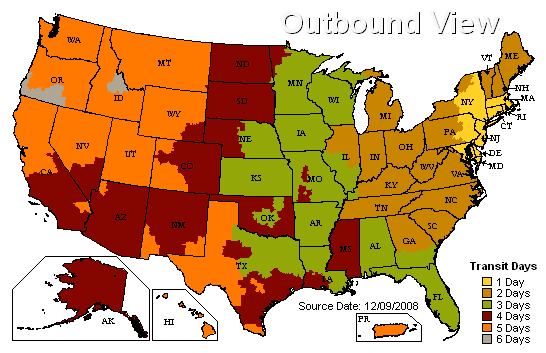 Note to customers in Hawaii: Standard and Express shipping is not available. Premium shipping of your purchase will take approximately 2-3 days. (please see the free shipping standards for Hawaii & Alaska)

International Shipping:
We ship worldwide mostly by USPS or via UPS. Custom, duty and taxes are the responsibility from the customer
How does my Order Qualify for Free shipping?
Every item is marked if it qualifies for free shipping or not.
In order to receive free shipping there should be either all items in the cart that are qualifies for free shipping accumulating more than $49.99
If the item mix in the cart are combined some that qualify for free shipping and some that don't and the qualified for free shipping items amount for the total above $49.99 there will be shipping charges only for those items that are not qualified for free shipping.
Common Carrier Fees (Equipment and Heavy Item)
Products or orders too large or heavy to ship via UPS, FEDEX or USPS, will be delivered to you via common carrier (it will be noted by the item).
Sign for your shipment after you have checked to make sure it arrived to you safely. If there are any issues, please note on the delivery receipt.
If the packaging shows any evidence of a problem, immediately inform truck drivers of damage. Mark BOL as such and have trucker sign the BOL.
Always keep a copy of the delivery receipt
If part or all of your shipment is damaged and you did not note this in any way on the BOL, we CANNOT guarantee any compensation for equipment or damages.
By signing your name on the delivery receipt without noting any damages, you are stating that you have received your shipment in acceptable condition.

Items that ship by freight will have the shipping charge in the item info.
Exclusions to Flat Fee Freight Charges:
· Liftgate Service
· Delivery address under construction
· Schools
Residential address
· Remote locations
· Alaska & Hawaii
· APO & FPO address
· Sidewalk delivery only
· Some Other Exclusions May Apply
Return Policy

Returns and Exchanges
Your satisfaction means a great deal to us. If you have purchased an item that no longer suits your needs, we are happy to return or exchange it within 30 days of delivery. We also make it simple to handle this process and you can reach us by phone, by email, or through our website. However, there are a few important things to know about our return and exchange policy:
● For items that are currently marked "in stock" we will provide you with a prepaid return label and issue a full refund for the purchase price, excluding items shipped with freight.
● If the product is listed as "available", we will assess upto a 20% restocking fee, plus shipping charges (prepaid label will not be provided)
● We do not refund shipping costs.
● Any special order or custom made products are not refundable or returnable.
● All items must be in new, unused condition, with the original packaging.
● Requests for refund or return must be made within 30 days of delivery.
How to Request a Return or Refund with Kerekes/BakeDeco:
● Contact us by emailing orders@bakedeco.com or by calling 718-232-7044
● We'll provide you with a return authorization number (RMA) and information about how to handle the physical return.
● You are responsible for packaging the item for return transit.
● The RMA will be valid for up to 15 days. Please ship the return/exchange within that window.
● We will issue you a refund amount within five business days of receiving the item.
● If you paid with a credit card, additional processing time may be required before the return shows in your account.
● Note that if you are exchanging an item, it will be billed as separate transaction.
Note that you can also return an item in person by visiting our New York Store at 6103 15th Avenue, Brooklyn, NY 11219.
Equipment Warranty Guidelines
New equipment
New equipment is under warranty by manufacturer. Customer must contact manufacturer directly.
We will assist you with warranty procedures, providing telephone numbers for service companies and or, manufacturer numbers.
Used Equipment
Equipment shipped to a location within the NY Metropolitan it has a warranty for 3 months from date of purchase.
Equipment shipped to areas outside of NY Metro area are guaranteed to be in working condion as described. Please install and/or test equipment as soon as it is received. If there is an issue, please contact us immediately and we will assist you to get the equipment to work.
Warranties will only be in effect if the equipment is properly installed by either a licensed electrician, or a licensed plumber. Gas equipment must be properly calibrated by the installer.
Calibration is not part of warranty coverage. Incorrect connection of equipment (electric or gas), voids warranty of equipment.
Equipment with Three Phase electric must be properly installed to ensure that equipment runs correctly (in the right direction).
If a licensed electrician is requested for a service call and finds that the machine is running in the wrong direction, (due to incorrect electrical connection), customer will be charged for the service call.
Contact Us:




In order for us to better answer your questions, please direct your inquiry to the appropriate destination.
Billing Or Product Inquiries:
For questions about charges we have placed against your account, or for the status of a refund, please contact sales@bakedeco.com.
Order Status Questions:
Please submit all questions related to the status of an existing domestic order or order cancellation requests to orders@bakedeco.com .
Technical Questions:
For questions of a technical nature with regards to our web site, please contact webmaster@bakedeco.com.
By Phone:
Kerekes Customer Service Representatives are available to assist you at our toll free number: 1-718-232-7044 or our local number 718-232-7044
Customer Service Hours: Monday - Thursday 9-5 EST, Friday, 9:00-1:00 PM EST.
By Fax:
718-232-4416

Mailing Address:
Kerekes Bakery & Restaurant Equipment Inc.
6103 15th Avenue
Brooklyn, NY 11219