Baking Pans and Silicone Bakeware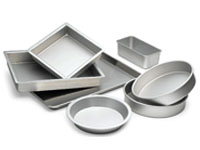 Bakedeco.com offers a wide selection of bakeware, molds, and pans for the professional as well as for the home baker. From simple round cake pans to deluxe pyramid molds, cupcake pans to cannoli forms, and baking molds in every shape and size, our selection of bakeware items is your go-to place for all your pastry-making needs.
Sometimes a baker is only as good as his tools. That's why Bakedeco.com is committed to providing you with top-notch kitchen and bakery supplies. Even if you aren't (yet) a professional pastry chef, let's get you acquainted with our variety of gourmet baking supplies. Silicone bakeware is essential for getting a shape that's pleasing to both the eyes and the taste buds. Try out something new with our silicone baking molds in shapes like roses, hearts, and geometric shapes, and for a tasty frozen treat, try our silicone ice cream molds. For more control over your batter and easier extraction, don't miss our silicone baking pans to create deliciously precise shapes. Flexible molds are the way to go for beautiful, easy-to-make gourmet desserts. No matter what kind of cake you want to make, we've got what you covered. Round cake pans of all sizes, square cake pans, aluminum baking pans, silicone baking pans, disposable baking pans, cake rings, pie pans, and so much more. For mouthwatering miniature desserts, you'll want to try working with a cupcake pan, mini tart pans, mini bundt cake pans, silicone muffin pans, tartlet molds, and mini pie pans. For unique and sophisticated designs for your chocolate and pastries, check out pyramid and hemisphere molds. Baking around the world has brought us some uniquely delicious culinary delights. Try the classical art of French baking with madeleine molds, baguette pans, petit four molds, and brioche molds. For an Italian taste, our cannoli forms make exquisite cannoli shells. Make your baking vision a reality today! We can't wait to see what you create.