Items - $0.00
|
Checkout
|
Help & Info
|
Log In
|
800-525-5556
free ground shipping on qualified orders over $49.99
Parchment Paper, Non-stick Coated (Quillon Parchment), 16" x 24" (Fits on 18" x 26" Sheet Pan)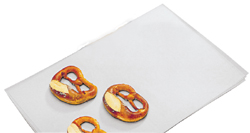 Enlarge Image
Item No. PP-30-PK
Price: $2.95
Item status: In Stock
Availability: Ships in 1-2 business days
Free Shipping if total is more $49.99
Package: Pack of 30
Coated Parchment For Baking Trays, Piping Bags, & Cooking "En Papillotte"
16"x24", to fit an 18"x26" Sheet Pan
Star-K kosher certified

| | |
| --- | --- |
| Features | |
| Coated / Non-Stick | Non-Stick |
| Material | Quillon Parchment Paper |
Average Customer Rating
5 stars - (2 reviews)





Great Value
Best value in parchment anywhere- Use these all the time!
By
bberney, maryland
on November 19, 2015





Parchment paper
Very good results! Use it all the time.
By
Dee Jay, WV
on December 16, 2014
Average Customer Rating
5 stars - (2 reviews)
Copyright © Kerekes Bakery & Restaurant Equipment Inc..