Items - $0.00
|
Checkout
|
Help & Info
|
Log In
|
800-525-5556
free ground shipping on qualified orders over $49.99
Poly / Plastic Dough Scraper 6" x 4" w/Kerekes Symbol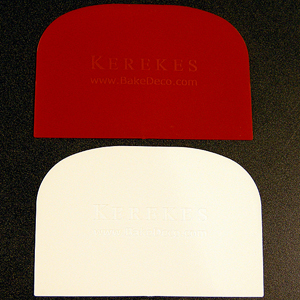 Enlarge Image
Following Colors available
Item #
Colors
Price
Quantity
K2300-We

White
$0.75

Available Ships in 1-2 business days

K2300-Rd

Red
$0.75

In Stock Ships in 1-2 business days
Made Of Polypropylene
Great For Scraping Bowls
Great For Smoothing Products
Flexible & Easy To Handle
| | |
| --- | --- |
| Features | |
| Material | Polypropylene |
| Color | Red |
| Color | White |
| Design | Kerekes Symbol |
Average Customer Rating
4 stars - (5 reviews)





Good tool
Great, inexpensive (even after factoring in the shipping cost), perfectly simple tool. Not too stiff, not too soft, just right. Recommended by my bread baking guru, Zack Golper, master baker at Bien Cuit bakery in Brooklyn.
By
Jon Rotholz, Pennsylvania
on May 26, 2016





Hard dough scraper
This is perfect for mixing the heavier dough.
By
Bill, TX
on October 2, 2015





poly/plastic dough scraper 6"x4" w/ Kerekes symbol
Very happy with the product and I received it faster than expected
By
Robert, Arizona
on May 26, 2015
Average Customer Rating
4 stars - (5 reviews)
Copyright © Kerekes Bakery & Restaurant Equipment Inc..