Items - $0.00
|
Checkout
|
Help & Info
|
Log In
|
800-525-5556
free ground shipping on qualified orders over $75.00
Poly / Plastic Dough Scraper 6" x 4" w/Kerekes Symbol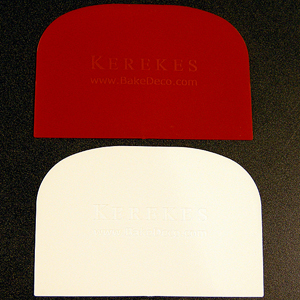 Enlarge Image
Following Colors available
Item #
Colors
Price
Quantity
K2300-We

White
$0.75

In Stock Ships in 1-2 business days

K2300-Rd

Red
$0.75

In Stock Ships in 1-2 business days
Made Of Polypropylene
Great For Scraping Bowls
Great For Smoothing Products
Flexible & Easy To Handle
| | |
| --- | --- |
| Features | |
| Material | Polypropylene |
| Color | Red |
| Color | White |
| Design | Kerekes Symbol |
Average Customer Rating
4 stars - (3 reviews)





poly/plastic dough scraper 6"x4" w/ Kerekes symbol
Very happy with the product and I received it faster than expected
By
Robert, Arizona
on May 26, 2015





Just the kind I Like
These are the ones. They are a little stiffer than the cheaper plastic scrapers. They clean up better, they work better, they last longer.
By
Phil, Vermont
on December 30, 2014





KK-1
Great for scraping the mixing bowl while pulling the dough together.
By
Ken, CA
on June 5, 2014
Average Customer Rating
4 stars - (3 reviews)
Copyright © Kerekes Bakery & Restaurant Equipment Inc.