Items - $0.00
|
Checkout
|
Help & Info
|
Log In
|
800-525-5556
free ground shipping on qualified orders over $49.99
de Buyer "Carbone Plus" Steel Frying Pan, Made of Heavy Quality Steel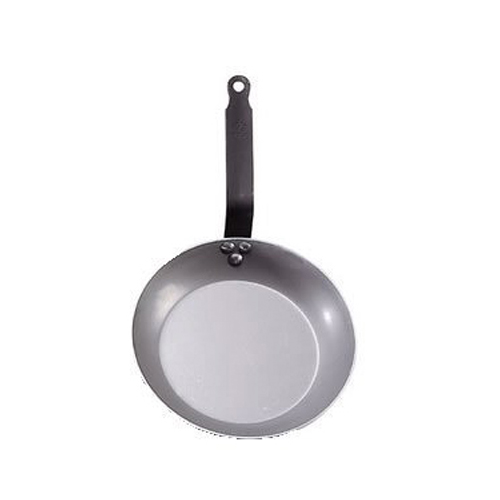 Enlarge Image
Following Sizes available
Item #
Sizes
Price
Quantity
DB5110-20

MFR# 5110.20



20cm (8")
$23.70

In Stock Ships in 1-2 business days

DB5110-22

MFR# 5110.22



22cm (8-5/8")
$20.50

In Stock Ships in 1-2 business days

DB5110-24

MFR# 5110.24



24cm (9-1/2")
$21.65

In Stock Ships in 1-2 business days

DB5110-28

MFR# 5110/28



28cm (11")
$28.05

In Stock Ships in 1-2 business days
Perfect thickness of Steel for heat source circulation.
For use on all heating components: gas, on induction hob, electricity as well as on vitro ceramic. 1.2 to 3 mm thickness. Riveted steel handle
The frying pan remains essential for Sealing, Browning, Grilling food (steak, omelets, crepes, etc.) and improving flavor
Once the frying pan reaches a temperatures 140° C and above, the pan then seals the food on the surface, resulting in the caramelization of the natural juices (the Maillard reaction).
A crust forms, preventing moisture from evaporating. The food becomes brown and crusty on the surface, tender and soft in the middle
Perfect for frying meat and obtaining crispy crepes or tasty omelets!
The material is considered to be "Extra Thick" of black steel
Average Customer Rating
4 stars - (13 reviews)





GO TO WORK HORSE
HAVE BOUGHT A COUPLE OF THESE-BREAK IN AS RECOMMENDED AND YOU'LL BE THRILLED WITH RESULTS PUTS THE "TEFLON" TYPE TO SHAME.HEAVY,BALANCED--A BEAUT!
By
KEN WALSH, New Jersey
on March 16, 2016





This pan is awsome!
I love this pan; it's one the best I've ever had. It's not too heavy and it's not too light. I'm still developing the seasoning, but so far it's great.
By
Austin, Texas
on November 3, 2015





Awesome
possitivly the best fry pan i've ever owned.
heavy,responsive,well seasoned- quickly a fav
By
Ken, NJ
on June 30, 2015
Average Customer Rating
4 stars - (13 reviews)
Copyright © Kerekes Bakery & Restaurant Equipment Inc..