Alef Bet (Hebrew ABC) Cutters with Pin & Spatula: 37-Piece Set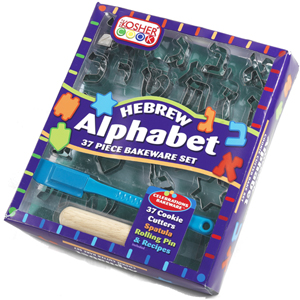 Enlarge Image

Item No. KCBW0153
MFR# 5122
UPC: 813859010751
Price: $28.50
Temporarily Out of Stock
✘Store Pickup

You may order this item; will ship when available.
Free Shipping if total is more $49.99
Set includes 35 tinplate cutters in Jewish holiday and Hebrew alphabet shapes, as well as spatula with rubber blade and plastic handle (overall length 9-1/2 inch, with 1-1/8" wide blade) and natural-wood rolling pin 5-5/8 inch long. Cutters are mostly 1-1/2 inch. Shapes include Hebrew alphabet, chai symbol (letters ches and yod fused), Torah, becher (wine goblet), Star of David, menorah, shofar, dreidel and apple for Rosh Hashanah. On back of cardboard insert are two clip-out recipes, one for sugar cookies and one for sugar-cookie icing.
| | |
| --- | --- |
| Features | |
| Material | Tin |
| Shape | Alphabet |
| Pack of | 37 |
| Shape | Wine Goblet |
| Shape | Chai symbol |
<