Ateco 1942 Blossom Metal Plunger Cutters, Set of 4 Cutters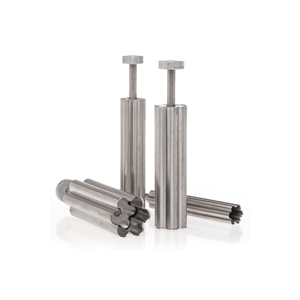 Enlarge Image


Item No. A1942
MFR# 1942
UPC: 014963019429
Price: $24.20
In Stock
✔Store Pickup

Order within 45 Min. to Ship Today
Free Shipping if total is more $49.99
Plunger cutters made of stainless steel and aluminum. Sizes are 8mm, 10mm, 12mm and 15mm. To use, press into sheet of gumpaste to cut, then push out the cut-out shape with the plunger.
| | |
| --- | --- |
| Features | |
| Material | Stainless Steel and Aluminized Steel |
| Cutting Shape | Blossom |
| Pack of | 4 |
| Dimensions and Weights | |
| Size | 8mm, 10mm, 12mm and 15mm |
Draw back
Purchased these in metal for their professional quality, but was disturbed that they left a grey metallic stain on white gum paste that I could not eliminate with washing plungers or coating with shortening. (not a good aspect if you are working with white Lily of the Valley).The shafts slips slightly on one plunger. Frankly dissapointed.
By
Pete, PA
on May 21, 2015