Cambro Colander, Fits Camwear Food Storage Boxes 18" x 26" x 9" and 15"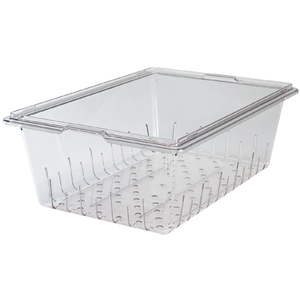 Enlarge Image

Item No. 18268CLRCW
MFR# 18268CLRCW135
UPC: 099511344055
Price: $57.85
In Stock
✔Store Pickup

Order within 1 Hour 57 Min. to Ship Today
Free Shipping
Qty Discount: 4 or more only $52.10
Clear 8-inch-deep polycarbonate pan with perforated bottom. Improve food quality and reduce risk of contamination by draining vegetables or fruits, thawing frozen meat or poultry or storing seafood on ice. Virtually unbreakable, easy to clean.