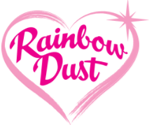 Item No. RD03927
MFR# 03927
UPC: 840489100415
Price: $5.79
Temporarily Out of Stock
✘Store Pickup

You may order this item; will ship when available.
Free Shipping if total is more $49.99
Double Sided Food Art Pen by Rainbow Dust, Black
With Rainbow Dust Food Art Pens you get the best of both worlds. A superfine 0.5mm nib for detail work and a broader 2.5mm nib for bold pattern designs. The free flowing ink means you only need a light pressure, so you can even draw directly on to finished cake.
Kosher Certification by Manchester Beth Din