Econome Melon & Fruit Baller (Makes Half Ball Shapes)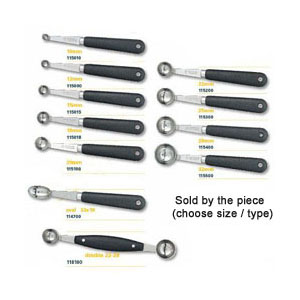 Enlarge Image
Following Sizes available
Item #
Sizes
Price
Quantity
115200

UPC: 803118244225



22mm (7/8")

$13.95


On sale $7.95
"Discontinued Item" Discount Price applies only for (16) qty available

In Stock
✔Store Pickup
Order within 11 Hours 53 Min. to Ship Today

115300

UPC: 803118244256



25mm (1")

$13.95


On sale $7.95
"Discontinued Item" Discount Price applies only for (37) qty available

In Stock
✔Store Pickup
Order within 11 Hours 53 Min. to Ship Today

114700

UPC: 803118245222



Oval, 33mm x 19mm (1-1/4" x 3/4")
$15.95
"Discontinued Item" Discount Price applies only for (12) qty available

In Stock
✔Store Pickup
Order within 11 Hours 53 Min. to Ship Today
Heavy duty stainless steel form and sharp cutting edge of the melon baller create perfectly shaped, uniform vegetable or melon balls. The handle is made of dishwasher-safe plastic while the blade is constructed of stainless steel.
Good Fruit & Melon Baller
Exactly what I ordered and expected as described in the description
By
Bear, Fl
on March 22, 2017
Melon baller technique
I used these tools for Le Cordon Bleu's Parissiene technique for melon and potatoes. They worked perfectly. I was very happy!
By
Wendy Lee Stewart, Florida
on May 7, 2013