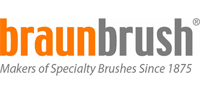 Item No. BR370
MFR# B370
UPC: 802985657022
Price: $37.75
Temporarily Out of Stock
✘Store Pickup

Est. availability:12/30/2021
You may order this item; will ship when available.
Not Qualified for Free Shipping
Designed for ovens with revolving decks, this brush is built for reaching in and cleaning while the oven is in operation.
Natural tampico fibers staple set in a rock maple block take the heat.
Not qualified for free shipping