Gourmac Hutzler Cookie Press and Food Decorator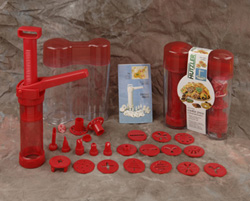 Enlarge Image
Item No. H698
On sale: $12.50
In Stock
✔Store Pickup

Order within 9 Hours 44 Min. to Ship Today
Free Shipping if total is more $49.99
Without a doubt, this is the easiest-to-use Cookie Press. You'll be amazed by how quickly you can make beautiful perfect cookies. It takes just 2 easy steps to get a perfectly shaped cookie: lift handle, click down. Easy for children and even those with arthritis. Just move at your own pace without any squeezing or twisting. Makes cookies, macaroons, pasta and cheese straws. Then it turns into a food decorator so you can decorate cakes and cookies, make deviled eggs, twice baked potatoes, etc. Plus, this is the only cookie press that makes 2-toned cookies (with a colored center). Set includes: Easy Action Cookie Press with Translucent Barrel, 12 cookie design discs, 2 two-toned cookie discs, 1 macaroon disc, 1 pasta disc, 6 decorating nozzles, recipes and instructions, storage canister.
<
press and decorator
A great combination appears to be put together and sturdy haven't used it yet.
By
cakesbynamma, ny
on April 8, 2020
This is my 4th
Love to use for cheese straws and the holiday cookies. My only complaint is that the plastic tends to get a little brittle after about 2 years. I always hunt for an identical replacement. The orange cookie in the recipe booklet is my all time favorite cookie.
By
Anne, Georgia
on October 15, 2013