Item No. 76081
MFR# 11110801
UPC: 719812760810
Price: $4.99
Temporarily Out of Stock
✘Store Pickup

Est. availability:11/27/2020
You may order this item; will ship when available.
Free Shipping if total is more $49.99
Other Color Available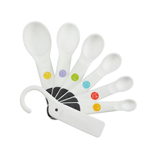 White
Dimensions: 8" x 2" x 3"
Weight: 2 oz.
These measuring tools from OXO are an essential for every kitchen. Our Measuring Spoons feature brightly colored numbers so measurement markings are easily recognizable. The Measuring Spoon handles have soft grips for added comfort. Constructed of sturdy plastic, the Spoons make dipping into flour and sugar a breeze.
Colorful, easy-to-read measurements
Spoon Set includes 1 tablespoon, 1/2 tablespoon, 1 teaspoon, 1/2 teaspoon, 1/4 teaspoon, and 1/8 teaspoon
Soft, comfortable grips
Dishwasher safe