Silikomart Silicone Bakeware Madeleine 1.1 Oz, 3.07" x 1.77" x .7"H, 44/mold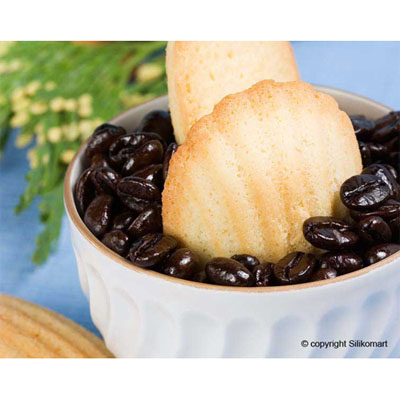 Enlarge Image
Item No. SQ005
MFR# 40.405.20.0000
UPC: 3334490025609
Price: $74.95
Temporarily Out of Stock
✘Store Pickup

Est. availability:11/30/2020
You may order this item; will ship when available.
Free Shipping
Designed for pros, this silicone mold is the tool for creating delectable morsels, both sweet and savory. The size of this mold makes optimal use of your cooking surface, reducing preparation time by doing the job of several molds in a single mold. Its flexibility, non-stick property and smooth, glossy inside ensure you success with the most challenging recipes. 100% safe, this 16 x 24 silicone mold by Silikomart can be used to freeze or bake your food in convection ovens and microwaves.
| | |
| --- | --- |
| Features | |
| Material | Silicone |
| Oven Safe | Yes |
| Maximum Heat Resistance | 536° F |
| Cavities | 44 |
| Bottom Style | Solid / Fixed |
| Coated / Non-Stick | Non-Stick |
| Dishwasher Safe | Yes |
| Dimensions and Weights | |
| Ounce Capacity | 1.1 |
<