Pastry Packaging & Display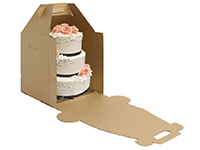 Great desserts are meant for picture perfect presentation. Give your baked goods a fresh new look with your very own cake boxes, cake decorating ribbons, cake foils, or wrapping supplies. Use stickers, stamps, or printing to customize these supplies to your branding, or rely on their sweet simplicity to let your treats speak for themselves. These decorating supplies will secure your desserts, ensuring that they aren't damaged in transport to preserve their oven-fresh appeal. You can also shop for cake boards for imprinting cakes, cookies, and more with your unique designs to customize the dessert from beginning to end. No matter which supplies you choose, your delicious desserts will be just what your customers are craving.
Make your desserts something to write home about with stunning decorative accessories for cake designing and packaging. Start with a decorative cake board crafted from shaped metal that can imprint designs onto the edges of your cakes and pastries. These durable cake boards make great presentation pieces in display cases or special occasions, creating a fresh and exciting new look for your delicacies. Once you've completed your dessert, wrap it in one of our deluxe cake boxes wrapped in packaging ribbons or foil to complete the look. We also offer sealing and wrapping supplies to keep your dessert secure from point A to point B. Our packaging options are affordable, durable, and well made to protect your brand and your products. Your baked goods will be a work of art from beginning to end, from the design of the cake itself to the final bow on the box.
Shop more products from one of our trusted Brands Oxo, Fox Run, Nordic Ware & Ateco