Trays & Serving Carts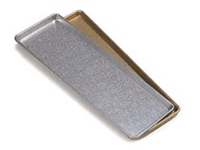 Serve your food in style and level up your food presentation by using BakeDeco's premium trays and serving carts! Guaranteed made from high-quality and pristine materials, these kitchen and dining tools from world-renowned manufacturers will give your dining experience a revolutionary upgrade!
Food presentation on various occasions is made easy with the use of trays and serving carts. With its vast array of designs, sizes, and styles, serving your food has never been this innovative! Choose from BakeDeco's extensive collection of premium and high-quality dining tools and get the best tray and serving cart for you!