Description
Rollfix Reversible Sheeter 30C/650 Very Good Condition
Used
Very Good Condition
Well Maintained
Approx 6 years Old
Comes With 4 Cutters
Price Can't Be Beat
Putting into operation and production
Description and intended use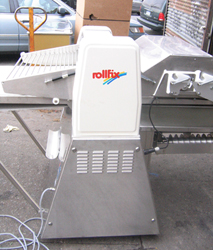 The Rollfix Type 30C/650 is a combination of sheeting and cutting machine:
a for gentle sheeting of various dough types and for the production of dough blocks and dough sheets.
b for the cutting of sheeted and eventually spooled up dough into the desired form
The performance data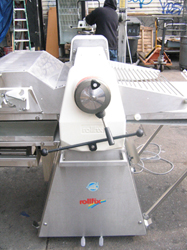 in modern bakeries.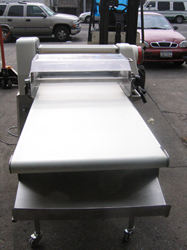 forms special cutting rollers can be delivered. Even complicated shapes can be produced by means
of special cutting roller combinations, linked by chains.
The particularly solid mechanic construction
30C/650 is the basic prerequisite for the permanent use during daily production in the bakery.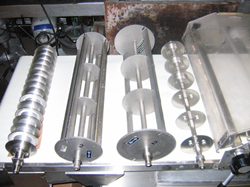 of this new combinated machine meet the real actual requirements of the daily useA roller gap of 42 mm in connection with an infeed height of the safety guard of 85 mm guarantee that dough blocks of up to 15 kg
can be processed.At the same time, the exit belt's speed of 40 m/min guarantees a quick sheeting process and thus quick processing of large amounts of dough.The variable cutting speed from 2 to 7 m/min allows a high production capacity, as well as the direct transfer to a make-up table.For the cutting of the dough sheet different cutting rollers are available. Also for round and triangularof this Rollfix dough sheeting and cutting machine TypeThe solid underframe of stainless steel with 4 guide rolls and 2 arrests gives the machine a safestand. The cutting table additionally is equipped with a vertical support, the infeed table with a solid telescopic support of stainless steel.The infinitely variable roller gap adjustment is indicated by an easy-to-read scale, the division in the lower adjustment area is more detailed, enabling exact adjustment of the roller gap. The solid stop guarantees an even thickness of the sheeted dough sheets.