Description
Cleveland Steamer SteamCraft® Ultra 3 Model 21CET8
Very Good Condition
Cooking Capacity
For up to three 12" x 20" x 2 1/2" deep Cafeteria Pans.

Steam Generator
Innovative PowerPak Electric Steam Generator with one Special Stainless Steel Fire Bar Heating Element. Strong 14 Gauge Stainless Steel Construction. Large 3.5 gallon generator reservoir for fast steam cooking production. Fully insulated rear mounted steam generator.

Generator Cleaning Port
Easy access Generator Cleaning Port located on the outside, top of the unit. Not necessary to remove hot panels or rack guides to access.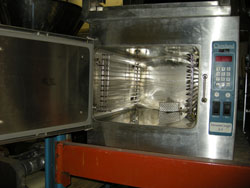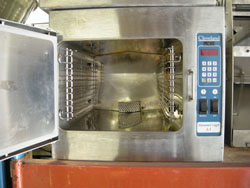 Generator Cleaning Light
Indicator Light located on the front of the unit warns operator it is time to delime generator.

Stand By Mode
Instant Steam Stand By Mode holds generator at a steaming temperature. Allows unit to start cooking instantly.

Construction
Durable 14 Gauge, Stainless Steel Construction for compartment door, cavity and steam generator.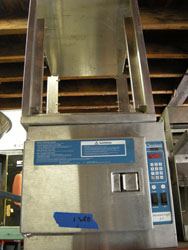 Comes with Stand shown on top Upside down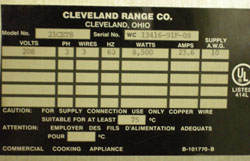 Controls
One Digital Timer and Switch for manual operation: audible signal for cooking time. Main Power On/Off Switch: Automatic Water Fill.

Steam Distribution
Exclusive Steam Cooking Distribution System: Maintenance Free Exclusive Brass Steam Jets produce a high velocity convection steam without fans. Coved Corner design in cooking compartment distributes heat evenly, and is easy to keep clean. Creased top & bottom enhance drainage. Cold water condenser behind drain maintains a dry steam. Fully insulated cooking compartment for thermal efficiency. Removable Stainless Steel Slide Racks for easy cleaning.

Generator Drain
Automatic Generator Drain: contains a "Water Jet" Spray Rinse Drain Cleaning Cycle to keep drain clear.

Remote Probe
Exclusive Automatic Remote Probe Type Water Level Control: Separate from the generator for easy access.

Door Design
Exclusive "Cool to the Touch" Two-Piece Compartment Door Design: Free floating inner door with reversible gasket provides an air tight seal. Stainless Steel Slam/Latch Door Latch mechanism for reliability.

Left Hand Door Hinging
Compartment Doors hinged on the left, controls on the right.

Electrical
Three phase

Stackable
By using the optional (STKI) Stacking Kit and Optional Stacking Stand (ES2130S) (2 units only).





SteamCraft® Ultra 3 Model 21CET8

This compact unit is ideal for 50 -100 seat restaurants, supermarket deli and seafood departments.

Pan Capacity: Three, 12" x 20" x 21/2" deep cafeteria pans.

Voltages: 208,Three Phase

Dimensions: Height (22.25") Width (21.00") Depth (32.13")

Wattage: 8 KW, Electric Atmospheric Steam Generators – 14-gauge stainless steel