Description
PaVAILLER SPIRAL MIXER MODEL S25CF Used Excellent Condition
Approx 6 Years Old
Used 1 Year Only
Excellent Condition
Well Maintained
Great BUY
Price Is A Bargain

Pictures Are of Actual
Pavailler S25CF Spiral Mixer
Max Dough Size 40 Kg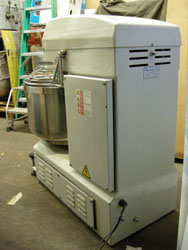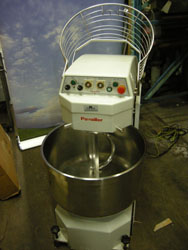 • Fixed bowl spiral mixer, tool double speed, designed
for modern baking process, thanks to its fleability and
mixing quality.
• Heavy dody construction for intensive production of
duy dype of dough.
• Stainles steel bar and spiral tool allowing a gendle
mixing and dough oxygnation.
• Motorized bowl with 2 rotation ways.
• Easy to dose front control psuel with main controls.
• Emergency push button
• Two dinners
• Comprehensive range from 25 kgs to 40 kgs.

3 Phase 220 volt
• stainless steel bowl and dool.
• Spiral tool and central section of stainless steel.
• Stainless steel raising safety grid, compliant with
European standards.
• 2 motors : double speed for tool, single speed for
bowl (except model S25 CF with 1 motor for tool and
bowl)
• Adjustable jacks at the front for better balancing of
the mixer.
• Castors at the back for easy removal.