Dormont Safety System Gas Connection Kit
Gas Connector Kit Includes:
Safety system gas connector (includes the Dormont Blue Hose™)
SnapFast quick-disconnect
Coiled restraining device with installation mounting hardware
Full port gas ball valve
Two 90° street elbows
The Dormont Blue Hose™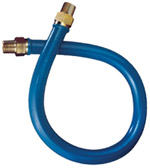 The heart of the Safety System is the Dormont Blue Hose, specifically engineered for caster-mounted commercial cooking equipment. The Blue Hose includes an ANTIMICROBIAL PROTECTIVE PVC COATING, and Dormont's STRESS GUARD™ TECHNOLOGY, which makes the hose easier to install and dramatically reduces stress on the hose at its most vulnerable points.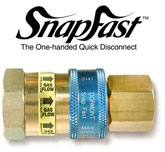 Dormont makes connecting and disconnecting moveable/castered equipment easier and safer with the SnapFast quick-disconnect coupling. SnapFast is the only quick-disconnect coupling designed specifically for the needs of the foodservice industry.
To Connect: Because of its push-to-connect design feature, the coupling's components are joined quickly and easily by simply pushing them together until they snap into place. There's no need to hold or slide the operating ring.
To Disconnect: Push or pull back the operating ring, and the coupling will separate immediately. Gas flow will shut off as soon as the components are separated.
Thermal Shutoff Feature
The thermal shut-off is a polymer ring located inside the nipple (male) end of the quick-disconnect coupling. In temperatures higher than 350°F, the ring melts and the gas supply shuts off as the valve is closed by the heavy-duty spring in the coupling.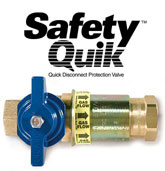 The Safety Quik is a quick-disconnect protection valve that combines the one-handed QD functionality of the SnapFast, with a patented safety feature that protects you and your business from a potential disaster. Safety Quik prevents users from accidentally turning on the gas while the appliance is not connected to the supply line. It also prevents the hose from being disconnected whenever gas is flowing. Includes thermal shut-off.

SwivelMAX, with patented 360° multi-plane movement, provides maximum movement and mobility in commercial gas equipment.
• Maximizes space in the production area by enabling the equipment to be closer to the wall
• Decreases stress on the connector, thus giving you a SAFER gas connection for your caster-mounted equipment