Frequently Bought Together
Description
Rigid clear polycarbonate chocolate mold
Overall mold dimensions: 7" x 11"
Each Cavity 130.8mm x 64.7mm
4 cavities - 2 front and 2 back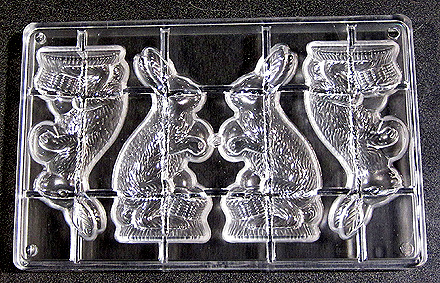 Specifications
Features
Material
Polycarbonate
Design
Rabbit Delivering Eggs
Cavities
2
Color
Clear
Dimensions and Weights
Overall Size
11"x7"
Reviews
Loved It
As a first time chocolate bunny maker, this mold made it very simple. To be clear, it is only one mold that has 4 half bunny cavities to make two complete 3D bunnies. The mold itself is as described and depicted, very sturdy polycarbonate. The chocolate set nicely and did not stick. Being a novice, I did break one of the halves, but was able to easily put it back in the mold and fix the crack with a bit more chocolate. I need to work on my technique, but I was able to marry the four halves together by lightly melting all halves.
By
Chocolate Obsessed, Cali
on April 30, 2021