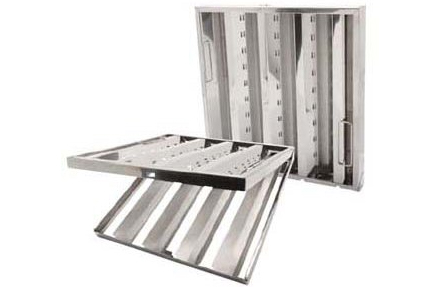 The Franklin Filter® Hinged Baffle Grease Filter—Easy-to-Clean Filter is an Investment in Hood Safety
What makes the Franklin Filter different? Its unique, slotted baffles provide extra outlets for air flow. This lowers overall static pressure and increases air flow. A reduction in static pressure decreases strain on exhaust fans and also produces a quieter operation. The increased air flow pulls more hot air from the kitchen, reducing the cost of air conditioning and creating a more comfortable work environment.
• Hinged design allows for
- easier cleaning
- the most thorough cleaning possible
- reduced threat of fire
• Unique, slotted baffles reduce static pressure, creating
- less strain on fan motor
- greater heat removal
- quieter operation
• Approved by the City of New York Department of Buildings MEA 1-05-E
• Meets NFPA no. 96 criteria and requirements
• Patent nos. 7,571,721; 7,581,539
• Stainless steel
• Each filter individually boxed
• Height measurement is direction of baffles
• UL, ULC listed
Note: Dimensions for height and width are nominal — actual dimensions are approximately 1/2" (13mm) less. For example, a 20" x 20" (508mm x 508mm) filter is actually 19-1/2" x 19-1/2" (495mm x 495mm).