Description
Eurofours Commercial Deck Oven, Made in France
With its simple design, this machine is easy to clean and maintain and unlikely to break down.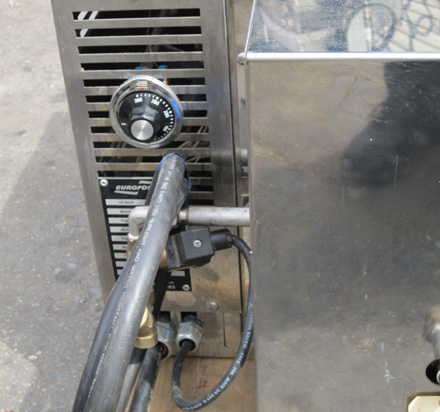 Eurofours is a European firm around since 1980. Visit its Web site.
Standard ovens allow their heat to reach your food at random and bake it in some spots but leave it cold in others, resulting in food that's either burnt or underdone. A convection oven avoids that baked disaster. Equipped with a built-in fan, it circulates air around the food to heat it all over at once.
| | |
| --- | --- |
| Model No. | PM01T04 |
| Serial No. | 01MTA006 |
| Volts | 208 |
| Phase | 3 |
| Frequency | 60 mhz |
| Max Heat | 450° C |
| Weight | 120 lbs |
| Outer Height | 17" |
| Inner Height | 9-1/2" |
| Outer Width | 38-1/2" |
| Inner Width | 24-1/2" |
| Outer Depth | 35" (handle 3-1/2") |
| Inner Depth | 20-1/2" |
1 hour timer setting with buzzer 
On/off power switch
Easy-to-use digital mechanical controls
Convection & steamer heater
Water injection steam (momentary switch)  
Hot water release button (for new water)
Temperature for the steam warmer
Stay-cool heavy duty stainless steel door handle