Description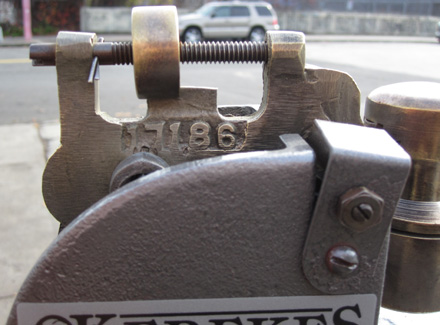 This painted-over scale from Howe (some company history further down), appearing to date back to the 19th century (though we don't know its exact year), is in perfect working order. Base of the scale measures 19-1/2" x 13-1/2"; height is 21"; width of the top head is 16-1/2"; total width approx. 21."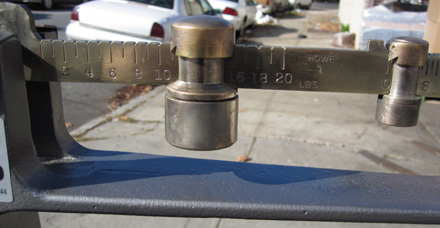 The text below appears on a Web page of the University of Vermont.
The history of the Howe Scale Company begins with Frank M. Strong of Vergennes and Thomas Ross designing and patenting a ball bearing scale for the Sampson Scale Company of Vergennes. Prior to this invention, the sharp pivot on which the platform of the scale rests would become worn down with repeated use, thus causing the scale to lose accuracy over time. The ball-bearing design provided a shock absorber for the pivot to reduce stress on the scale and improve its accuracy. This was the first major scale improvement in America and the first major innovation by Strong and Ross, the second being the building in 1857 of a gigantic scale for weighing canal boats, a feat that experts said was impossible.
In Spring 1857 John Howe Jr. of Brandon took over Strong and Ross's patents and began to manufacture their designs under the name Howe Scale Company. The Howe Scale Company became world renowned, earning several awards at fairs and exhibitions, including the the gold, silver and bronze medals at the 1867 Paris Exhibition against competitors from all over the world.
In 1873 the plant was moved to Rutland, with John A. Mead of Rutland becoming president in 1886, followed by Carl B. Hinsman and Frank G. Riehl. The Howe Scale Company went on to manufacture the weightograph, a device that produces weight readings on a ground glass screen that can be read in the dark from some distance away. It also produced the longest railroad track scale in the world, scales for weighing airplane propellers, and lightweight aluminum scales that were easily transportable on airplanes. It also began producing trucks and trailers for cargo, and those became an important part of the company's product line. The Howe Scale Company continued to be a leader in the manufacturing of high-accuracy weighing instruments into the twentieth century.