Description
Bread molder, used, good condition. Looks like the Pietroberto bread molder and dough breaker, but lacks a label that names it as such. The label instead has the name Spinnato Palermo, a firm we failed to find any info about. 29"W x 30"D x 45"H. Belt width 17-1/2." 120V, 60Hz, 1PH.
Solid-build structure in steel and cast aluminum, with chrome-coated large-diameter sheeting cylinders
Rolls both soft and hard dough perfectly; refines dough being processed
Fast, timed processing cycle with twofold pressing obtained by the use of three sheeting cylinders
To use, place your dough on the lower belt, then adjust the opening between the cylinders to obtain the desired thickness. Select the time required for the optimum number of passes for refining, then start the processing cycle. At the end of the cycle, collect the dough at the cylinder outlet on the upper belt.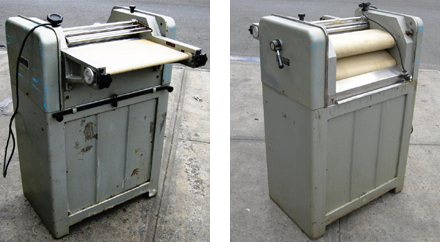 Please call us with any questions: 800-525-5556. As for Carlos.