Description
Note: The batter amounts needed for this cake pan are incorrect on the pan label. Please refer to the pan instructions below for correct batter amounts.
Create a romantic tiered wedding cake in a classic ring pillow shape. Stack the tiers for a dramatic presentation that looks sensational with fondant, especially when textured with Wilton Imprint Mats. Each pan will need to be baked twice, iced and stacked together to achieve the full pillow effect.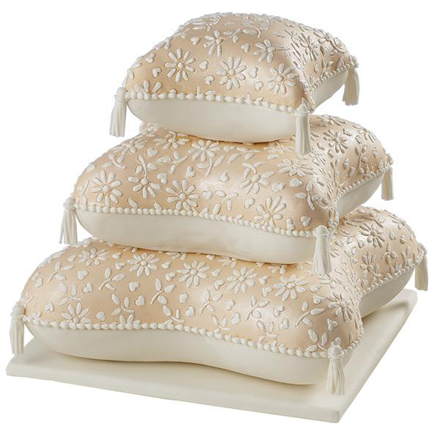 Contains 3 quality aluminum pans: 6-3/4" x 6-3/4" x 2," 10" x 10" x 2" and 13-1/4 x 13-1/4 x 2," plus heating core.
Wilton 3-Tier Pillow Pan Set: Use and Care Instructions
Before first and after each use, hand wash in warm, soapy water and dry thoroughly with a soft cloth. Do not place in dishwasher and avoid using metal utensils, abrasive cleansers or scouring pads. Acid from some foods may stain the pan, but occasional staining or scratches will not affect the performance of the bakeware.
Grease and flour pans before baking; you may use a vegetable pan spray or follow recipe directions for treating pans. Do the same on the inside and outside of the heating core, if used. Batter amounts on the chart below are for pans filled 2⁄3 full with batter. Icing amounts that are needed will vary with consistency and applied thickness.
Baking Directions: Each pan will need to be baked twice, iced and stacked together to achieve the full pillow effect as shown on the label.
Fill pans about 2⁄3 full (small pan 2-1/2 cups batter, medium pan 5-1/2 cups batter, large pan 10 cups batter). Bake following temperature and time below. Repeat for 2nd layers. Cool cakes completely. With knife, remove the crowns and round the edges of curves; stack and ice. Use the heating core with the largest pan for even baking. Position the heating core in the center of the pan. Fill the center of the core half full of batter, then pour batter in around the core.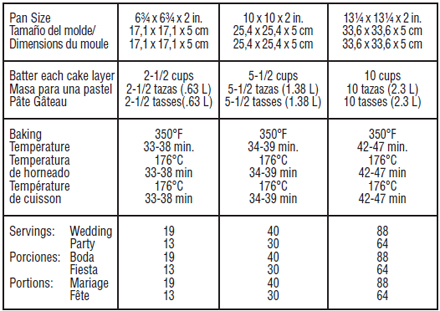 Specifications
Features
Material
Aluminum
Bottom Style
Solid / Fixed
Coated / Non-Stick
Non-Stick
Shape
Pillow
Dishwasher Safe
Yes
Reviews
Excellent company
I ordered the pillow cake pan set & was very very very happy that it (1) was packaged excellently, and (2) arrived on time. The pans were great. Baked the cakes well & held its shape. Easy clean up with soapy water.
Very satisfied with my purchase!
By
Shaniqua Thomas, USVI
on February 2, 2016