Description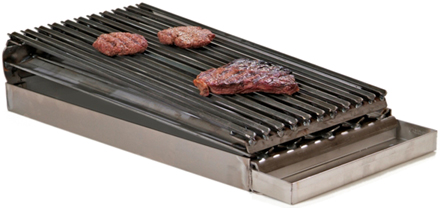 Add-on / lift-off broiler for 2-burner commercial range top. 5" high, 12" wide, 24" long. Removable stainless steel grease tray (included) increases length to 27" and is 1-1/2" deep. Designed for more permanent applications and can handle the higher grease volume of a professional kitchen.
Fits most commercial ranges
Adjustable frame
Unique broiler design will not drip grease into the burners. Most juices burn off in the flare pan, giving the smoky broiled flavor.
Specifications
Features
Material
Stainless steel
Type
Broiler
Dimensions and Weights
Width
12"
Depth
1 1/2"
Height
5"
Length
24"