Description
A taste of sweet nostalgia, whoopie pies were introduced generations ago, when American country homemakers placed them inside lunch boxes as an afternoon surprise. Enriched with a luscious cream filling, the cakelike sandwich cookies are said to derive their name from the shouts of delight that spring from whoever tastes them. Non-stick steel pan 11-1/4 inch x 16-5/8 inch. Each cavity 2-7/8 inch diameter x 1/2 inch high.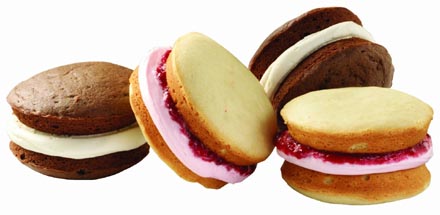 Specifications
Features
Material
Steel
Bottom Style
Solid / Fixed
Cavities
12
Coated / Non-Stick
Non-Stick
Dishwasher Safe
Yes
Reviews
captain cook
While this product arrived in a timely manner, it had quite a few small dents in it. I don't know how it could of got them since they were from the bottom side and this had a heavy paper sleeve over it.
p.s. complaint to shipping carrier
By
Rich, Wisconsin
on August 30, 2016
Love thisssss
I use this all the time not kidding i make my gluten fat sugar free muffin tops with this pan.
By
Mikey k, texas
on May 15, 2015
100% Nonstick
Excellent!! Light!! and 100% nonstick.
By
Eduardo Fernandez, Florida
on March 8, 2013