Flame Gard Filter (Heavy Duty Grease Filter)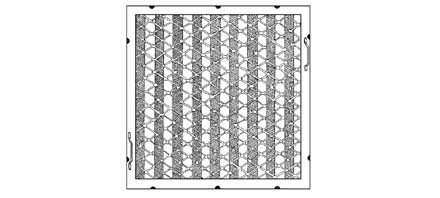 Baffle plates are adjustable to control air flow. Heavy gauge nickel plated steel with double framing that resists dents and bending, even if dropped. All filters have attached end baffles for greater efficiency. Baffles are safety coated to resist grease buildup.
NFPA no. 96 approved
Furnished with drop handles
2" (51 mm) nominal thickness, 1¾" (48 mm) actual thickness
Height measurements is direction of baffles
Note: Dimensions for height and width are nominal—actual dimensions are approximately ½" (13 mm) less. For example, a 20" x 20" (508mm x 508mm) filter is actually 19½ x 19½ (495mm x 495mm).