Description
Soft Serve Ice Cream Machine Twin Twist Taylor 337-27 Water Cooled
Used
Very Good Condition
Well Maintained
Approx 11 years Old
Price Can't Be Beat
Single Phase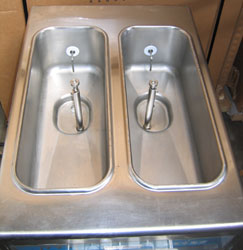 Click Here for manufactures spec sheet with all Dimensions Etc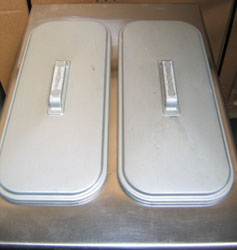 Soft Serve Freezer
Twin Twist
Offer all the popular soft serve variations from low or non-fat
ice creams to custards, yogurt and sorbet. Serve two
separate soft serve flavors, or an equal combination of both
in a twist.
Freezing Cylinder
Two, 2.8 quart (2.7 liter).
Mix Hopper
Two, 14 quart (13.2 liter). Separate hopper refrigeration (SHR)
maintains mix below 41ºF (5ºC) in Auto and Standby modes.
Liquid Crystal Display (LCD)
Mix Low display alerts the operator to add mix. When mix is out,
the unit automatically goes into Standby mode to prevent damage.
Audible alarm sounds to alert the operator.
Electronic Controls
Finished product quality is monitored by SoftechTM controls that
measure viscosity. The LCD (Liquid Crystal Display) readout
displays key operation information to monitor the performance of
the freezer using our Diagnostic Display System (DDS). A security
switch is located under the unit to lock out the touch pad controls
for self service applications.
Standby
During long no-use periods, the standby feature maintains safe
product temperatures in the mix hopper and freezing cylinder.