Description
Food Tools CAKE / PIE SLICER CS-1A Excellent Condition
Approx 9 Years Old
Excellent Condition
Like New
Great Machine
Price Is A Bargain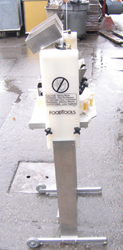 The FoodTools model CS-1A cake slicer has been designed for the small to medium size baker with the need to slice a frozen or semi-frozen round cake or pie products. The FoodTools slicer is unique because it not only slices the product, but also inserts a wax paper divider between each piece. This feature keeps the machines slicing blade clean and also prevents the product from sticking together. The machine is capable of slicing a wide variety of round cakes and other bakery products from six to eleven inches in diameter, and from one to five inches in height. From four to twenty four equal portions may be selected in even numbers. For the most effective slicing results, the bakery product should be frozen between 0°F and 20°F. In some cases satisfactory results maybe obtained at higher temperatures.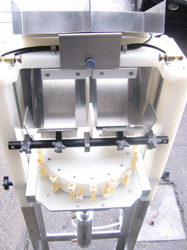 To convert from slicing one product to another (with a different diameter or requiring a different number of portions), the operator need only change the Product Support Dial (and if necessary adjust the divider guides). The CS-1A is a semi-manual machine, the operator must feed the waxed paper dividers and rotate the cake dial by hand, but the slicing blade is powered by pneumatic air pressure. NOTE: Compressed air pressure of at least 80 psi is needed to operate the CS-1A slicer.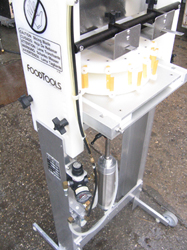 This machine is constructed of all NSF - approved materials, and requires virtually no maintenance other than putting a few drops of light mineral oil into the machine air line every three to six months.