Description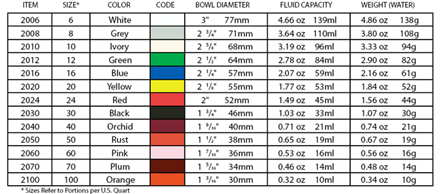 Since the Zeroll Co. introduced the "spring-less" designed Universal EZ Disher, it has become the industry standard for quality and performance for many restaurants. Available in 13 sizes with no springs to ever replace.
Features Include:
Color Coded Handles make finding the correct size a breeze
13 sizes
No "pip" to pop
Extended length version available
Special use and care instructions enclosed
Ergonomically designed to reduce repetitive use fatigue
Left and Right handed use
NSF approved
Reviews
Perfect to make Snowball Cookies!
Made just the right size dough balls and didn't jam at all!
By
Dani, New Jersey
on December 26, 2019
Perfecting the chocolate chip Tollhouse cookie
I have been baking the classic Tollhouse cookie according to the directions given by
thekitchn.com
with fabulous results except the cookies didn't brown well.
The 1 Tbs. pink scoop changed all that. The dome shape of the raw dough on the cookie sheet now produces the best looking, best tasting Tollhouse chocolate chip cookies. I make them for my wonderful brother-in-law each week. He has Alzheimer's, but he knows when it is "cookie day". He still enjoys food, and now he gets the perfect cookie.
By
Marilyn, Washington
on December 9, 2015
Great scoops!
I have 5 of the Zeroll Univeral dished food/ice cream scoop and use them for meatball, cookies, truffles, etc. They work better than any other scoops and clean easily too!
By
Sbrikki, CA
on November 6, 2015