Description
Silikomart Silicone Bakeware Cylinder with Dividing Ring, 12 Cavities
Silikomart Silicone Cylinder Mold with Dividing Ring features 12 cylindrical baking cavities, each with a thin dividing ring appearing halfway up the inside of the baking cups. This dividing ring serves as a guideline in order to create even, layered desserts. Made of food-grade silicone, these baking cups are pliable and durable, with a superior non-stick finish that releases sticky foods with ease. Oven, microwave, and freezer safe, for creative sweet and savory dishes.
Silikomart Silicone Cylinder Molds with Diving Rings feature 12 cavities, each measuring 1.89 inches in diameter, standing 1.97 inches tall, with a 2.8 Ounce capacity

Silikomart products are made of high quality liquid food-safe LSR liquid silicone, for a non-stick finish that easily releases even the stickiest of foods

Temperature resistance ranging from -58°F for freezing To 482°F for baking degrees allows for Silikomart pans to be used in the oven, freezer, and microwave

Silicone baking supplies retain no residual tastes or odors, can easily be used for sweet and savory foods

Dishwasher safe

Require little or no grease for releasing the goods.

Flexible bakeware is easy to clean and maintain.

You can also view our silicone non-stick baking mat, the Silpat, which is used on baking pans instead of parchment paper.
The thin dividing ring appears about halfway up, as can be made out in a close-up view of one of this mold's cavities: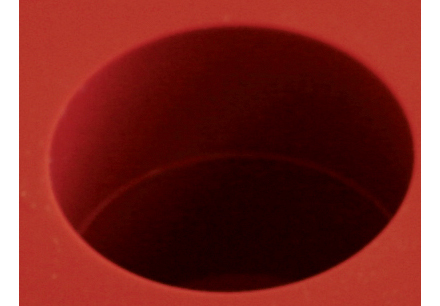 Reviews
High quality! Would recommend!
I wasn't sure if I would be able to make a dessert as beautiful as the image implies, but I was actually quite successful with this baking cylinder. It comes with a dividing ring which makes it easy to create that perfect shape every time. Very nice!
By
Tom, AR
on September 22, 2018

Attention California Residents:

Prop 65 Warning