Description
The Chocoflex range has been enriched with the addition of
this spherical mold.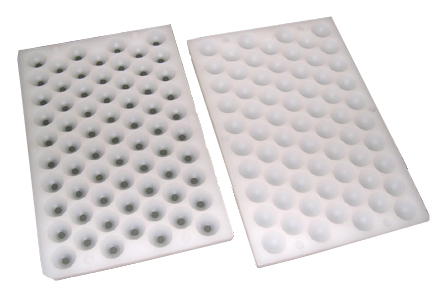 Ideal for the production of truffles and jellies, this new type of mold offers amazing advantages:
1 It lets you quickly create pralines with all the different
types of filling, from the softer ones such as creamy chocolate
and pralined fillings, to the harder ganaches.
2 If you choose to make only spherical pralines such as truffles,
you can avoid using the chocolate-coating trolley. It's enough to
dip them manually in softened chocolate.
3 Even for making spherical jellies, this is the
speedy and sensible way to go.
To Make Truffles
Step 1: Fill the holes of the mold with your chocolate (if it's harder ganache, with the aid of a spatula).
Step 2: Put the mold in your fridge to harden the chocolate.
Step 3: Removing the yummies is easy and rapid thanks to the supple elastic silicone.
Step 4: For a final chocolate coating, dip your spheres by hand in softened chocolate and then in cocoa.
To Make Jellies
Step 1: Fill the holes of the mold with your liquefied jelly.
Step 2: Put the mold in the fridge to help the jelly solidify.
Step 3: Remove from the fridge and take the jellies out of the mold.
Step 4: Roll the hardened jellies in caster sugar.

Specifications
Features
Pack of
2
Shape
spherical
Cavities
67
Dimensions and Weights
Height
26.4mm
Diameter
25mm
Reviews
Amazing Product!!
This is exactly what I wanted and it arrived here quickly!
Thank you!
By
Devon, Utah
on April 16, 2015
Perfect
Finally got the right parchment triangles !!!! Will order from Kerekes again! : ) Thank you!
By
Marie, CA.
on January 30, 2015
Very good
Very good item, but very expensive
By
Tal, Israel
on April 23, 2014