Description
Irinox Blast Chiller, Model HCR141-50. Additional pictures below.
 Never used, our unit has sat in storage for seven years. We took it out for a test and found it in perfect working order (though shopworn, as pictures make obvious).
| | | | | |
| --- | --- | --- | --- | --- |
| Serial # | Dimensions | Volts, Amps | Hz, PH | Refrigerant |
| 010090092 | 33-1/4"W x 40-1/4"D x 77"H | 208V, 7A | 60Hz, 1 PH | R22, 106 oz |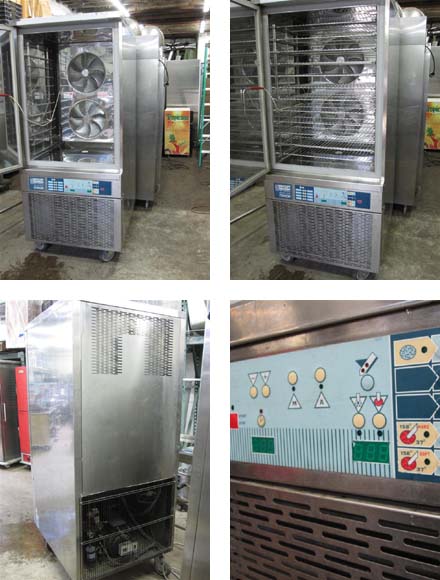 We weren't able to find a spec sheet for this specific unit. There is, however, the spec sheet for Irinox HCMA 141.50L. It's the same as ours but is also a shock freezer.
Here below, a 101 on blast chillers.
What is a blast chiller freezer?
Blast chillers take cooked foods from a finished cooking temperature (i.e. from the oven) to 37°F in 90 minutes or less.
Why do I need a blast chiller?
Chefs and foodservice professionals are taught to reduce the temperature of food within six hours to 41°F or less. Common practice is to place the boiling soup in an ice bath or leave your hot food to cool on the counter until it reaches room temperature, and then shove it in the walk-in or reach-in. But let's face it, traditional fridges and freezers just don't cut it. (They're designed to hold food, not rapidly cool it.)
What is lost while it cools? Food shrinks—losing taste, texture, flavor, moisture and nutritional value. Studies show that 80% of moisture loss in foods is from a final cooking temperature down to 160°F—over just a few minutes.
How much bacteria grows in your foods? From the final cooking temperature through the danger zone of 140°F to 40°F, a single bacterium can double every 15 minutes when cooling at room temperature. Do the math: that means 2 million bacteria in just 4 hours.
How much labor is spent prepping for the cooling process?
What can it do for me?
With an Irinox, you can take that same hot food from its finished cooking temperature and place it right in the blast chiller. And that means:
Double or triple the shelf life of your foods. By rapidly cooling food, there is less time for bacteria to grow, and you lock in taste, texture, flavor, aroma, color and nutrition, and eliminate carryover cooking.
Less labor costs: no managing the cooling process, and preparing in larger batches saves time.
Less food costs: purchase and preserve seasonal foods at their peak and serve them months later! Foods freeze in micro-crystals (snow-like particles), so the cellular structure does not break, unlike in holding freezers.
Less energy waste: use a blast chiller only when you need it, saving wear and tear on your standard refrigerators and freezers.