Description
This silicone mat is marked (on one side, not on reverse) along the length (one side only, not the opposite length) in half-inch increments starting from 1 and until 24, and along the width (also one side only, not the opposite width) starting from 1 and until 16.
Premium non-stick for premium outcome. Fit for confectionery food, and suited for baking pastry and freezing ice cream. Made of fiberglass coated on both sides with food-grade non-stick, anti-slip silicone—needing no grease. Can be used for baking pastries, as well as for working sugar, chocolate or caramel, creating decorations for cakes and rolling out any kind of dough without using flour.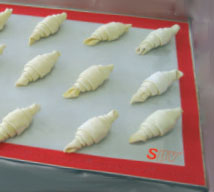 Resistant to temperatures from -40°C to +280°C (-40°F to 536°F), and suited for use in static, ventilated, automatic or microwave ovens. The mat must be placed on a grill or a perforated tray. Clean with a soft sponge under hot running water.
Specifications
Features
Material
Silicone
Oven Safe
Yes
Maximum Heat Resistance
536° F
Dimensions and Weights
Width
16-1/2"
Length
24-3/8"