Frequently Bought Together
Description
| | | | |
| --- | --- | --- | --- |
| Item | Diameter | Height | Volume |
| ZUC115/1 | 4-1/2 inch | 2.3 inch | 13.8 Oz |
| ZUC135/1 | 5-5/16 inch | 2.7 inch | 22.1 Oz |
| ZUC160/1 | 6-1/4 inch | 3.2 inch | 37.5 Oz |
| ZUC180/1 | 7-1/16 inch | 3.5 inch | 53.1 Oz |
Height of these "Tortaflex" hemisphere molds (as the company calls them) is half their diameter. Volume is 13.8 ounces (409 ml)

These different silicone hemisphere molds can be used in tandem by first molding an ice cream half-sphere in the smallest mold, then placing that frozen half-sphere into ice cream made in the next-size mold, and so on, until you have a hemispherical ice cream mound with several layers.

Flexible silicone mold resistant to cold down to -76F (-60C) and heat up to 446F (230C), letting you bake a cake or make ice cream and get it out easily thanks to the non-stick property and flexibility of the mold. The mold's integral frame makes it stable, and its suppleness lets you push your baked or frozen product out from the bottom.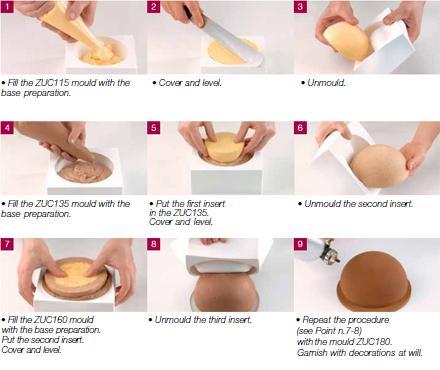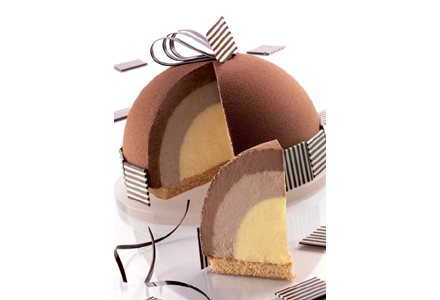 Specifications
Features
Material
Silicone
Bottom Style
Solid / Fixed
Dishwasher Safe
Yes
Oven Safe
Yes
Shape
Hemisphere
Maximum Heat Resistance
446° F
Coated / Non-Stick
Non-Stick
Reviews
Thank you
Hi, thank you so much, this item is nice. Claudia
By
Claudia Piacenza, Canada BC
on May 6, 2018
great results every time
I've owned this product for over a year and it yields clean results for a variety of different projects.
By
Food Enthusiast, California
on October 20, 2014
Excellent product, very robust.
Silicone Dome for Ice Cream Bombe
By
frances UK, Hampshire
on December 14, 2013