Description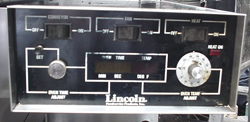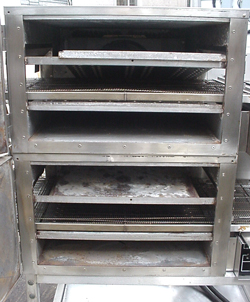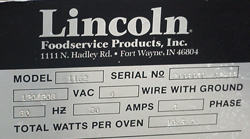 • AIR IMPINGEMENT uses hot air under pressure which surrounds food with small jets of hot air. This allows for rapid heating, cooking, baking and crisping of foods, two to four times faster than conventional ovens, depending on food product cooked.
• Front-loading easy to remove conveyor.
• Uniform heating/cooking of food products offers a wide tolerance for rapid baking at a variety of temperatures.
• Variable speed Continuous Cook Platform moves products through the oven one after another, improving product flow during cooking and virtually eliminating labor.
• Safety of conveyorized product movement is a definite advantage over batch type ovens, as it eliminates the need for constant tending.
• Oven has one self-contained heating system.
• Customer specific air fingers on top and bottom allow for the heat to be adjusted and controlled by zoning.The 4-button digital microprocessor control panel is located in the front right under the conveyor and has power on-off switch, temperature control, and conveyor speed control. The LED readout displays actual cavity temperature in degrees (F° or C°), conveyor belt speed, thermostat indicator light, and diagnostic messages for easy troubleshooting. All settings are automatically locked out to eliminate accidental changes to desired settings. All ovens are digitally calibrated at the factory, reducing the need for periodic calibration.
• This item is not digital as described on the factsheet below. Refer to us with all your questions.
• This item is double-stack (2 ovens one on top of another)
Manufacture's factsheet is just a click away...
J

Attention California Residents:

Prop 65 Warning