Description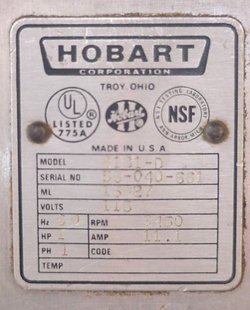 Commercial Food Cutter - Hobart 8181-D - USED
---
Please note: the following details are from a newer model - 84186. Specifications should be similar except that there is no hub.
The reliable, heavy-duty food cutter to meet the needs of even the most demanding operations. Its double cutlery grade stainless steel knives reduce food products to a uniformly small particle size for salads, spreads, bread crumbs, and other imaginative recipes. The high quality of these blades means the edge is held longer for fewer sharpening during the life of the blades. The burnished aluminum bowl cover, stainless steel bowl, and knife blades are easily removable without tools for quick, easy, and thorough cleaning in a three compartment sink. For safety, the Bowl Cover Safety Interlock prevents operation of the machine until the bowl cover is locked down into position, minimizing the possibility of injury. In addition, the bowl cover cannot be raised with the switch in the "ON" position. The one piece burnished aluminum housing has no cracks or crevices to accumulate food particles, minimizing the possibility of bacterial growth.

Features a 1 hp motor with ball bearings. One piece stainless steel bowl has an 18" inside diameter and is easily removed for cleaning. Bowl rotates at 20 RPM. Knife blades rotate at 1725 RPM, and are secured to hub as a unit, which may be removed from the knife shaft without change of knife clearance adjustment. Stainless steel knife comb included. Unit includes a built-in 256 RPM attachment hub which accomodates all Hobart #12 attachments.
Manufacture's factsheet is just a click away...
J

Attention California Residents:

Prop 65 Warning