Description
Nordicware's bundt pan is made of commercial quality, extra heavy cast aluminum and provides superior baking performance
Baked goods rise evenly, cook more uniformly, & have delicious, golden crusts due to excellent conduction of these heavy walled pans
Nordicware's cast bakeware produces better shapes & finer details than ordinary pans
Special heat reflective exterior, & commercial quality non-stick surface, assures uniform browning & stick free results
size of pan 10"x2"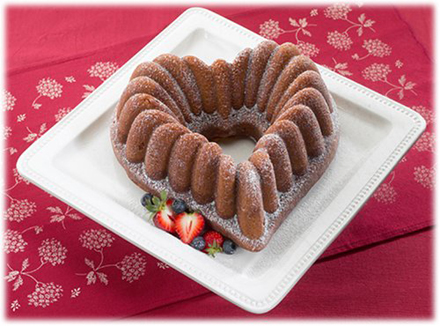 Specifications
Features
Material
Cast aluminum
Oven Safe
Yes
Shape
Heart
Bottom Style
Solid / Fixed
Coated / Non-Stick
Non-Stick
Dishwasher Safe
No
Dimensions and Weights
Exterior Width
10.44"
Exterior Height
3.88"
Cups Capacity
10
Interior Length
11"
Reviews
Heart pan
Pretty
By
Lucy STROWBRIDGE, VA
on March 17, 2022
Heart Bundt pan
I really like the pan it was fun to use, but you have to make sure to oil the pan generously so ur cake does not stick.
By
Sharon--Oray, California
on February 17, 2020
Love this pan
I used this pan for a cake I made and it was wonderful. I prepared the pan according to the directions and the cake came out in one piece. I was concerned because of the ribs in the heart. I received many comments Can hardly wait to make the castle.
By
Cookie, Colorado
on December 26, 2017