Description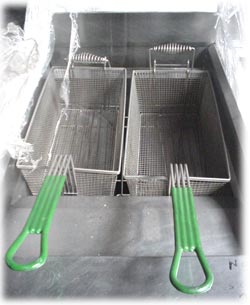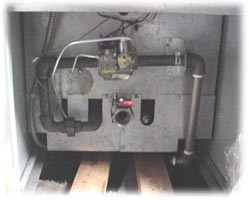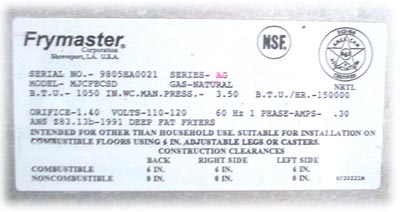 MJCF Gas Fryer - Frymaster MJCFECSD - USED
---
Specifically designed for frying chicken, fish and breaded products.
The MJCF has a minimum 60-lbs. (30 liters)* and maximum 80-lbs. (40 liters)* shortening capacity. The frying area is 18 x 19 in. (457 x 483 mm). This 150,000 BTU/hr. (37,783 kcal/hr.) (44.0 kW) model is specifically designed for high production of chicken, fish and other breaded products. The exclusive 1° action thermostat (two-year limited warranty) anticipates rapid rate of temperature rise, reducing temperature overshoot, extending shortening life and producing a more uniformly-cooked product. Centerline thermostat mounting permits quick sensing of cold food placed in either basket. Multiple orifice burner has no burner tube radiants to burn out. No burner cleaning or air shutter adjustment is required. The open stainless steel frypot has a large heat transfer area to fry more product per load. The open-pot design has no hard-to-clean tubes. Every inch of the frypot and cold zone can be cleaned and wiped down by hand. The large cold zone catches crumbs and sediment from the frying area. These particles are trapped in the cold zone where they do not carbonize, contaminate shortening or cling to fried products. The MJCFE model uses a 120/24V (220-240/24V for export) control system to accommodate additional accessories. Shortening melt cycle controls are available. The MJCFEC model uses a 120/24V (220-240/24V export) power system which is controlled by Frymaster's Computer Magic® Computer. Up to four MJCFE or MJCFEC fryers can be batteried to the right side of a MJCF unit.
Open-pot design, no tubes, easy to clean

Durable centerline thermostat quick response to loads, 1° anticipating action, reduced temperature overshoot

Deep cold zone, 1-1/4 in. (32 mm) IPS ball-type drain valve

Master Jet burner, no burner tube radiants to burn out, no cleaning or adjusting air shutters

Rounded corners for easy-to-clean "Euro" look
Manufacture's factsheet is just a click away...
J

Attention California Residents:

Prop 65 Warning